How can we help you?
I would like to…
Get the latest ID Gatineau news by signing up for our monthly newsletter (in french only)!
Great things are happening in Gatineau…
And at ID Gatineau, we're proud to be doing our part!
Discover our PODCAST
(coming soon / in french only)
Our "Les Nouvelles ID" podcast covers the current economic situation, with a focus on the businesses we are helping, which happen to include some of the most dynamic in Gatineau!
COMING SOON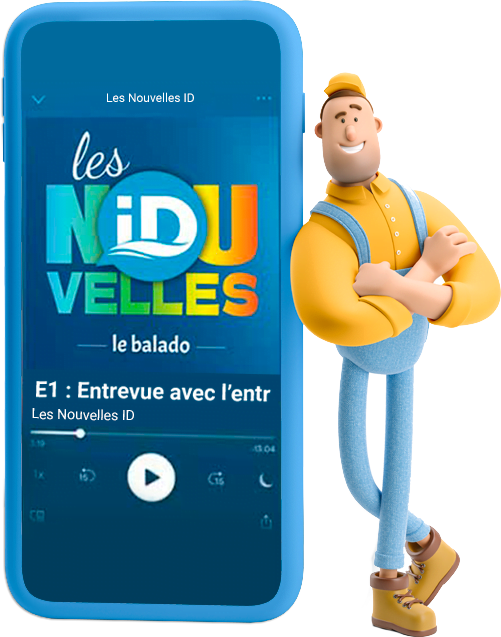 We're fortunate to have such an organization in Gatineau. It makes you feel like someone is there to guide you through innovative projects. ID Gatineau is a goldmine when it comes to helping entrepreneurs.

Alex Van Dieren

Co-owner, Orkestra
The connection with ID Gatineau was immediate, and it took them no time at all to understand the challenges we were facing. The business development strategic advisor understands our company, and does a fine job representing us. Personally, I feel like I have found someone who advises and guides me.

Ted Dhillon

Owner, Figbytes
I showed up at ID Gatineau without an appointment, and got my first meeting. I was just looking for information. But I received so much more. The kind of support I never expected, and have never seen anywhere else. By the end of the meeting, I already had the names of three entrepreneurs I could approach about renting space.

Inge Pudelek

Owner, Sani Gear
We were first directed to ID Gatineau by Carrefour jeunesse emploi, and they believed in our project and gave us all the support we needed to start up. We continue to turn to ID Gatineau for their expertise when it comes to developing our business.

Marc-André Cordeiro

Co-owner, Brasserie du Bas-Canada
Percentage of our clients*
who are very satisfied with…
The usefulness of our advice
The availability of our professionals
*According to a survey conducted from February 1-24, 2023, involving clients with whom we worked for a minimum of 10 hours.